Your Source for Premium Screen Printing Services in Texas
Since 1987, ShadowFax Graphics has provided textile screen printing services to promotional products distributors, marketing firms, advertising agencies and end users throughout the Southwest. We are even sought out by other screen printers to produce their more complex and overflow jobs for them. We print four color process, simulated process and specialty inks that add value to the final product.
Welcome to Shadowfax Graphics
Our facilities are state-of-the-art. We use all the latest technologies and controls to ensure that you get the highest quality and longest lasting imprints. Our automated production means our prices are competitive and your job gets done on time and correctly.
Fast Turnaround:
We print on your supplied goods or goods that we supply for you: T-shirts, jackets, bags, caps, aprons, sportshirts, shorts, sweatshirts, umbrellas & more! Fast Turnaround: Production time for most work is 5-10 business days from receipt of art and goods. Rush service is available from $50 and up.
In-House Art Staff:
Whatever your art needs are we can take care of them. Whether from concept to final print or cleaning up and repairing art that you already have. We have you covered. We can do the artwork for any products you sell - even the ones we don't produce!
Four Color Process Printing:
We have the knowledge and experience necessary to produce true CMYK four color process on white and light substrates. Reproducing photographic images without having to print 10 colors will save you time and money.
Simulated Process on Light and Dark Substrates:
We can recreate full color images using opaque pigmented inks and award winning separations on any color garment. We utilize a halftone under-base to create bright vivid prints without a heavy hand.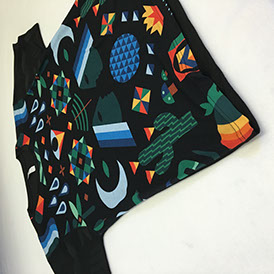 NOW OFFERING!
Full Color Dye Sublimation
All-Over Printing
Let ShadowFax Graphics show you what all we can do for you.
Below are just a few of our many printing methods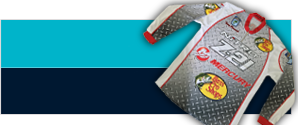 We now offer Cut & Sew garment manufacturing... From cycling, fishing to
t-shirts and tank tops we can fulfil all your custom apparel product needs!
NEW!
Custom
Jerseys
COPYRIGHT ©2023 Shadowfax Graphics. All rights reserved.